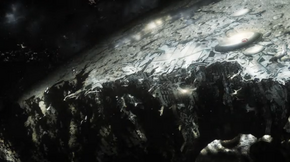 The Moon Base (月 ベース, Tsuki bēsu?) is the main military base controlled by the Vers Empire. The base was once formerly led by Count Saazbaum, whom was the head of the "Royal Guard". Currently his successor, and adopted son, Count Slaine Saazbaum Troyard is in-charge of managing the base and guarding the members of the Royal Family that reside within it.
Organization
Administrative Regions
History
Trivia
Gallery
Ad blocker interference detected!
Wikia is a free-to-use site that makes money from advertising. We have a modified experience for viewers using ad blockers

Wikia is not accessible if you've made further modifications. Remove the custom ad blocker rule(s) and the page will load as expected.